Now you'll see I don't exaggerate. I said this Tadelakt fireplace was massive? It was HUGE!
Stretching 16 feet across and with a towering peak of 11 feet, you can see why such a dominant feature made nailing the perfect colour the most important step in planning. But, hey, it's always about "the perfect colour".
Remember, I'll always be happy to mix tints as often as it's needed to make sure it's a colour you'll love living with well into the future.
Back to the massive fireplace: When you take a built-in entertainment centre/room feature and want to turn it into something bold and grand, while still adding value to your home, natural lime-based Venetian plaster is definitely the way to go. Remember that, it's not just a cosmetic change — it's adding value with beauty.
But, here, take a look for yourself.
"After":
"Before":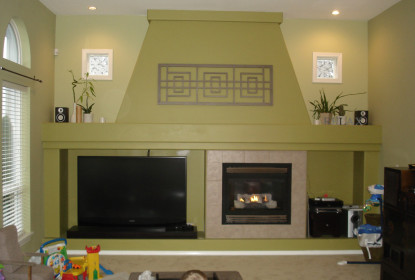 Here's the soon-to-be Tadelakt fireplace. Mean, green… and wow! Could be a show-stopper if it's finished right… but that's why they hired me, because my company only does it "right".
Our first step was building up the mantle for added size and drama, by using a 16-foot piece of 2×6 and some crown moulding. Et voila! There's some beautiful architectural detail.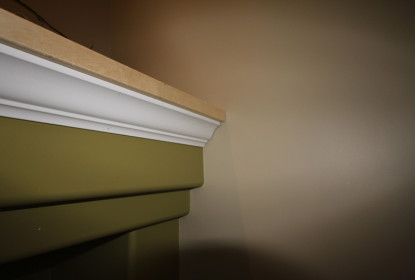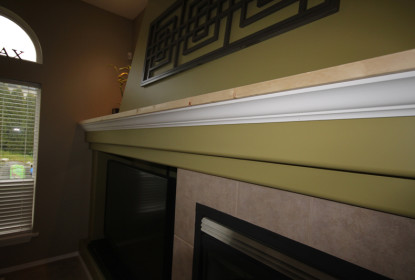 After finished beefing-up the mantle and the build was done, it was
time to figure out the posts for the bulk of the Tadelakt fireplace
application. This transformation really took it to the next level of
super-cool, don't you think?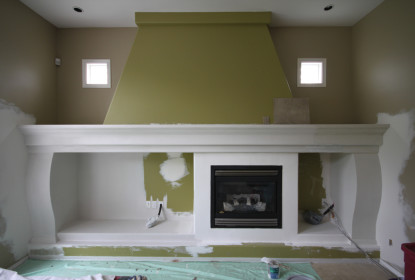 Look closely. Do you see both the bulk and pure "flow" those legs added? We felt it gave exactly the character needed to make this fireplace a feature to envy in an already-upscale neighbourhood.
Next came the real treat — doing the actual Tadelakt lime-plaster application. That's when I get to feel like we're putting icing on a cake. This, though, was a tricky cake.
You know me, I love a challenge. Personally, this profile was like nothing I had ever Venetian-plastered before. The detail, curves, and
difficulty reminded me of a lonely country road on a winter's morning — a great pleasure to be on, but taking it slowly and carefully would
be essential, while knowing that patience would be rewarded with beauty.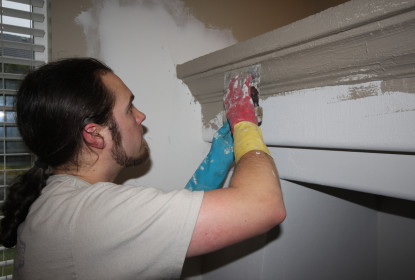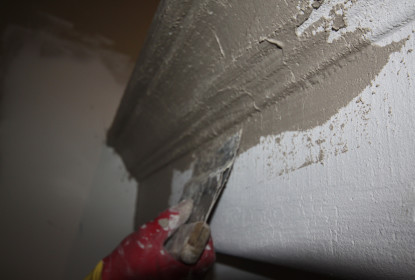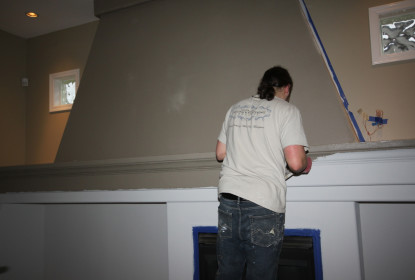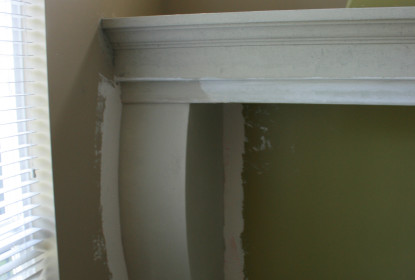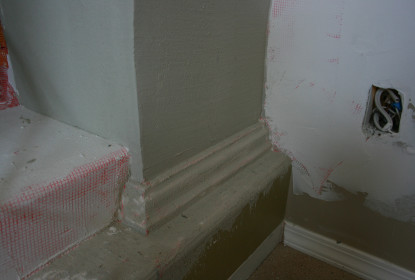 Do you see how I used an orange mesh for tying the pieces together? This step is a massive pain, and really not a fun part of the project, but when it comes to a curved profile and the added degree of artistic difficulty that comes with it, that grief is worth the effort just for the extra years of architectural integrity it gives the project. It's like your mom always told you, "Anything worth doing is worth doing right." That's how I operate, too.
Now the project is complete and the space has taken on a whole new look. It's no longer a built-in piece of drywall, but a long-lasting element for the room, and a focus of the home that can be built upon for years. This fireplace will surely remain a strong selling point for as long as the home stands, because we built it to last.
I'm glad you popped in for a look at my recent work. Thanks for reading!
Cheers,
Darrell.