This project will involve striping the paint off the stair case to expose the wood and stain to match the new flooring, will also will be wood graining the beams in the ceiling to match the new hard flooring and the 4 tear wood molding separating the ceiling. To complete the project will be using Benjamin Moore Aura Latex paint for a more Eco-friendly finish and wash ability. Completion is November 2008.
……Update………. this is a close up shot of the stair case after stripping and staining have been completed.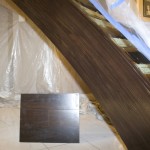 These are some shots of the scaffolding needed to do the wood grain on the sky-light beams. As you can see from the photo's I need to do some heavy repairs, I decided to create plastic drop catchs for the sanding dust and old drywall to prevent it form going all through the house.