Here, have a look at South Surrey's Grandview Business Centre, which you'll find nestled behind Winners in the Grandview Corners Mall.
Starting any day now, we'll be installing natural lime plaster throughout this high-end office building's common areas, including the bathrooms.
Landing this project was a super-proud moment for me, because it's my largest commercial project yet, and it's yet another client who cares about craft quality, so it's exciting to be a part of this.
Besides that, though, it's really close to home, and I know I'll be able to take my daughter there and show her that this is what Daddy does, because it's a public space.
I'll be blogging about the experience here, so please follow along as we transform this space from floor-to-floor, trowels in hand, as we take ordinary drywall and finish it into a seamless polished lime stone plaster.
Here's proof Vancouver-and-area isn't just a rainforest, we get snow too. This is the project under a fresh short-lived blanket of it a few weeks ago.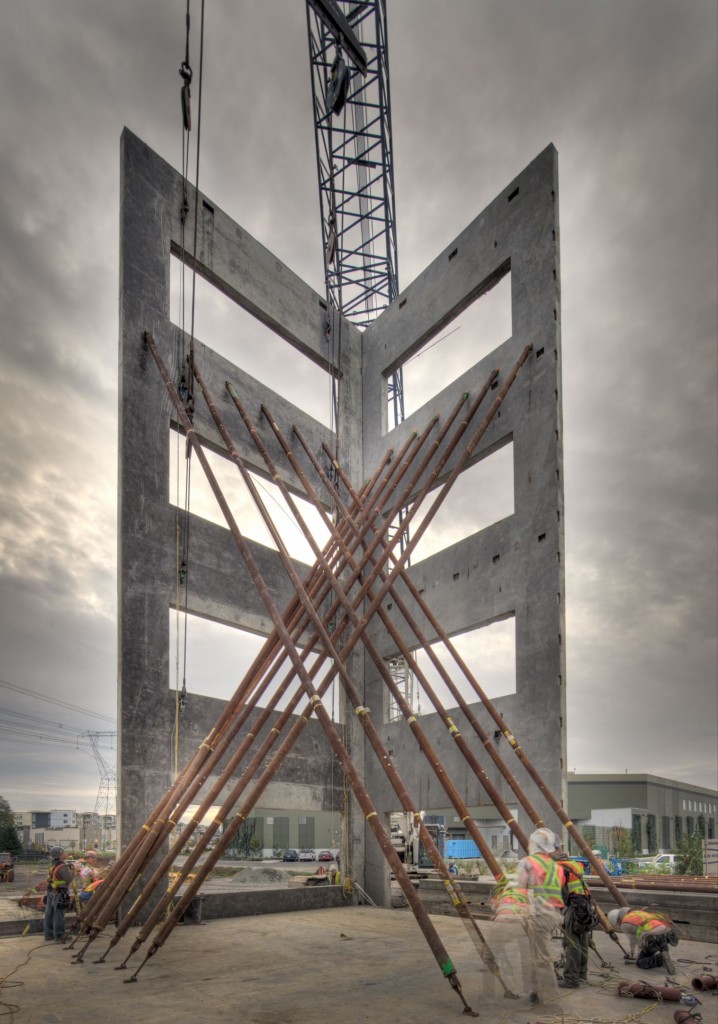 I love watching projects come together, and living so close to this build site let me catch glimpses throughout the early stages.
Here's a shot of the braces holding up recently-erected concrete panels. Obviously this isn't your average construction site.
The job required lifting massive tilt-up pre-made panels into place, including one panel 31-feet wide, 58.7-feet high, and a whopping one-foot thick, weighing a jaw-dropping 186,000 lbs.
When I get something wrong on a job, I might have a shade off in colour tinting, or a pit where there shouldn't be (and, naturally, it gets fixed pretty easily). Could you imagine when guys like the panel-tilters get their jobs wrong? Man, I'm glad I'm a painter.
In an article published October 19th, 2010, by the Peace Arch News, Hannah Sutherland reported there were 26 panels to "tilt up" in this unusual construction project, averaging at 140,000 pounds per panel.
In speaking about the construction method, its "Tilt-Up" assembly, Project Manager and owner of Double-V Construction Shane Van Vliet told Sutherland, "This type of construction is typical, but the fact this is four storeys is very unusual. Four storeys gets to be a little trickier… and more engineering is required."
A video of the assemby process can be viewed here on the BC Daily Buzz.
Now here's what the building looked like just recently.
If you're interested in purchasing space in this soon-to-be-awesome building, learn more about the Grandiew Business Centre on their sales site: http://www.grandviewoffice.com.